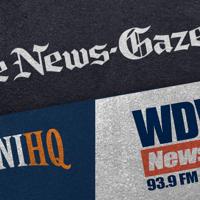 The screening room | 'C'Mon, C'Mon' obvious but sincere | Film-television
Though he wears his heart — and his plot — on his sleeve, there's a genuine sweetness to Mike Mills' "C'mon, C'mon" that's hard to resist.
An unexpected performance from Joaquin Phoenix, a career-best turn from Gabby Hoffmann, and great work from 10-year-old Woody Norman anchor the film, as each fleshes out their characters, all of whom go through moments of crisis and enlightenment that are both relatable and impactful, the poignancy of the performers shines through.
Phoenix is ​​Johnny, a documentary filmmaker in the middle of a huge project. He and his colleagues interview children in different cities, asking them how they think their future will be, if they feel heard and other questions along those lines. It's a fulfilling pursuit but one that's cut short when his sister, Viv (Hoffmann), contacts him, asking if he can come to LA to care for her nephew, Jesse (Norman).
It seems that her estranged husband (Scoot McNairy), from whom she is now living in San Francisco, is suffering from a psychotic episode, his paranoia running rampant. Viv has to convince him to ask for help. between Johnny, who comes to babysit Jesse for what she assures him is "only a few days".
Well, if you've seen more than two or three movies in your life, it's no surprise that Johnny and Jesse spend more than a few days together or that the filmmaker's project boomerangs on him, becoming a thought exercise. His nephew is not your average 10 year old. It quickly becomes apparent that his mother treated him more like an adult than a child, and possibly a part-time therapist, as he eventually reveals details about his parents and their relationship that no child should know. .
And though he is able to discuss and process his feelings maturely or speak authoritatively about the fungus systems in the trees, he is still a child, prone to flights, moments of rebellion, and outbursts of sadness.
His seemingly contradictory personality catches Johnny off guard as they come to terms with each other, but he quickly educates himself, learning to appease his nephew and respond and anticipate his needs.
Ultimately, the film is about the walls we build around ourselves, consciously or unconsciously, and the struggle not just to break them down but to recognize them. It's no surprise that Jesse is the one Johnny should interview for his project or that the boy turns the tables. He has insightful questions for his uncle that lead to revelations about his new guardian and mother. And while this initially puts the siblings back on their heels, it ultimately leads to better understanding and reconciliation between brother and sister.
Mills' secret weapon is the hundreds of interviews he and his team have conducted with children, a few of which are used throughout the film. Not an actor among them, these real-life teenagers truly express what worries them about the world and what it may or may not have in store for them. The honesty with which they speak is heartbreaking but ultimately hopeful.
The earnest nature of their responses mirrors those Johnny and Viv share, all thanks to Jesse's curious, unguarded approach to them and life. "Come on, come on" is guilty of being a bit too obvious at times, but the goodwill it engenders can't be so easily denied.
For DVR alerts, movie recommendations and movie news, follow Koplinski on Twitter @ckoplinski. His email is [email protected]