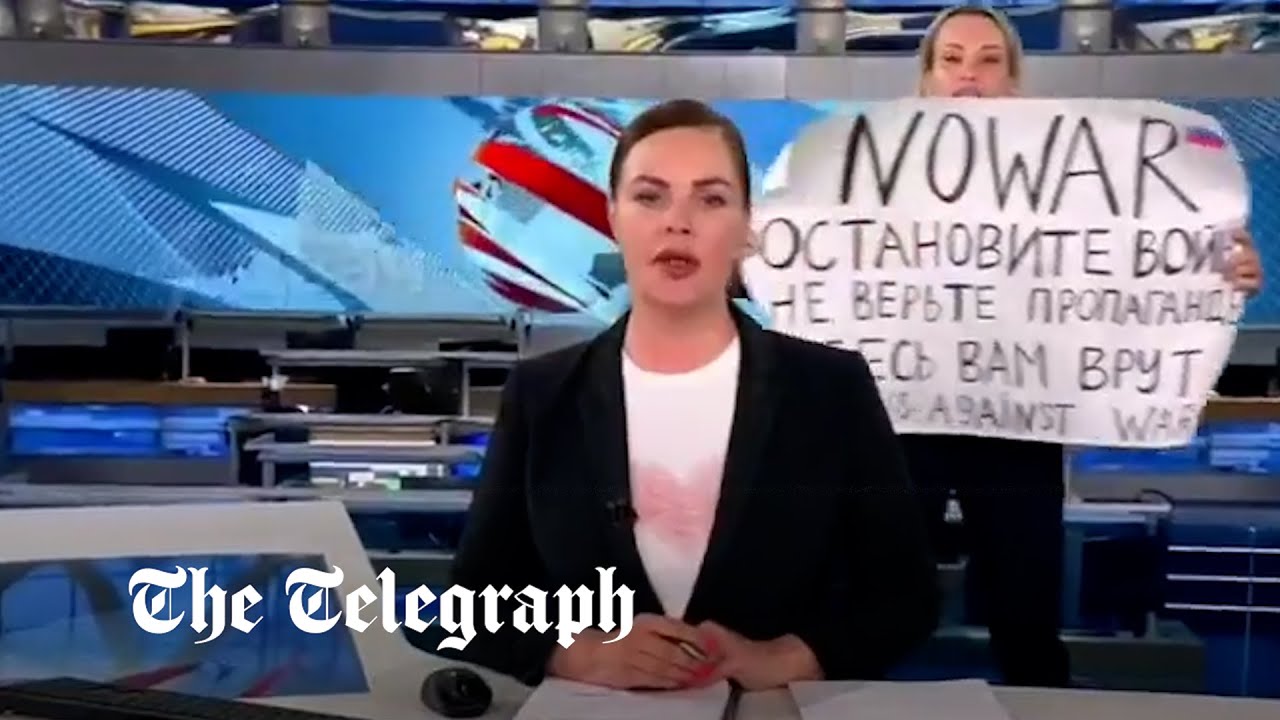 Russian State TV employee disrupts news broadcast with 'no war' protest
A protester against the war in Ukraine interrupted a live broadcast on Russian state television, telling the audience: "They are lying to you".
The woman walked into the studio on Russia's most-watched evening news show, holding up a poster saying "no war" and condemning Moscow's military action in Ukraine.
It was an extraordinary breach of security by the tightly controlled state broadcaster Channel One during its flagship 9pm show, which is watched by millions of viewers.
State television is the main source of information for millions of Russians. It closely follows the Kremlin line that Russia was forced to act in Ukraine to demilitarize and "denazify" the country, as well as to defend Russian speakers there against "genocide."
On March 4, the Russian parliament effectively banned war reporting, passing a law that outlaws public actions aimed at "discrediting" the Russian military and prohibiting the dissemination of false news. The offense is punishable by imprisonment for up to 15 years.
The woman has been identified as Marina Ovsyannikova, who is believed to be working at Channel One as an editor. She was taken to a police station. In a video she recorded ahead of the protest, Ms Ovsyannikova wore a necklace in the colors of Ukraine and Russia.
As Yekaterina Andreyeva, the news anchor, launched into a story about relations with Belarus, Ms Ovsyannikova – who was wearing a dark formal suit – burst into view, brandishing her handwritten poster.
Below, the poster read in Russian: "Stop the war. Don't believe the propaganda. They are lying to you here."
It was signed in English: "The Russians against the war".
She managed to say a few sentences in Russian, including: "Stop the war".
Ms. Andreyeva, who has presented the news since 1998, tried to drown it out by speaking louder.
The channel then rushed to images of a hospital.
In a statement carried by state news agency TASS, Channel One said: "An incident has taken place with a foreign woman in sight. An internal review is underway."
The woman could be charged under a law prohibiting public acts aimed at "discrediting the use of Russian armed forces", according to TASS.
OVD-Info also released a separate video recorded before the protest.